The main difference between SanDisk Ultra and Sandisk Extreme is their ability to record video.
The Extreme model lets you shoot 4K UHD videos, whereas the Ultra card only supports HD 1080p filming. The Extreme card has better read/write speeds and can transfer data more quickly.
With this in mind, let's jump right into taking a deeper look at what sets these SD cards apart and in which situations you'd prefer one over the other.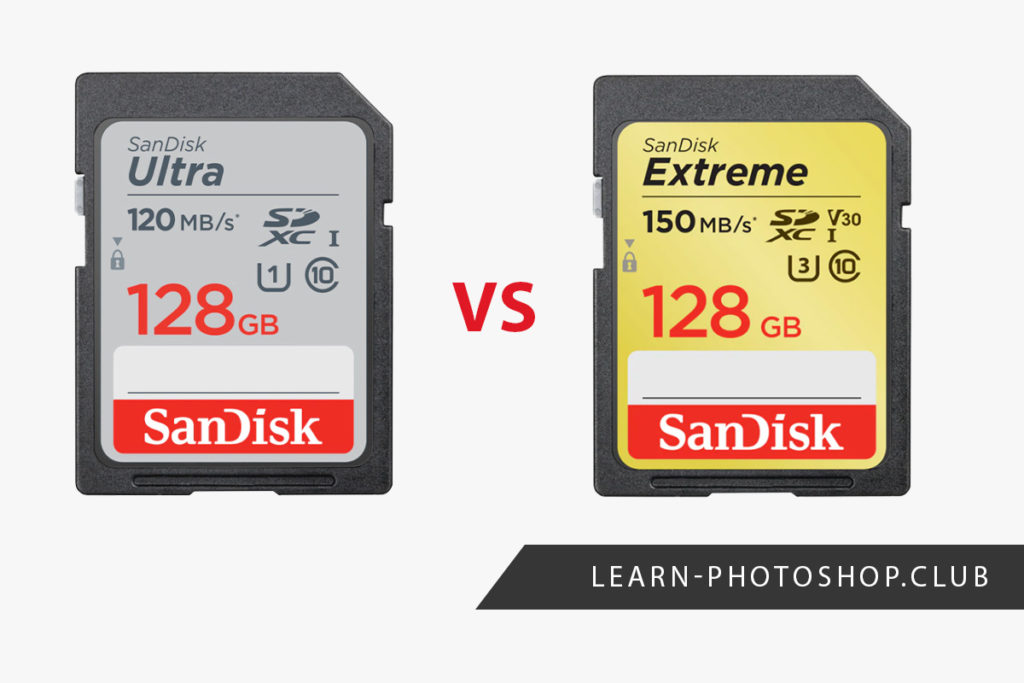 What is SanDisk Ultra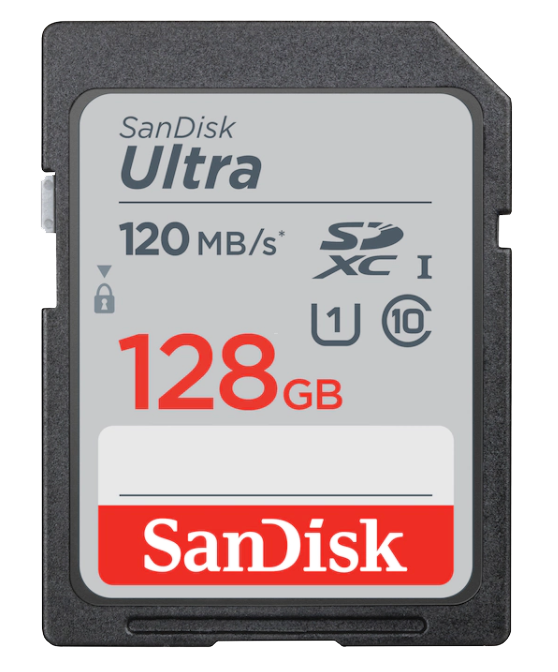 Type of Card
MicroSD & SD Cards
Speed Performance
[256GB-512GB] Up to 150MB/s read speed; write speed lower.
[64GB-128GB] Up to 140MB/s read speed; write speed lower.
[32GB] Up to 120MB/s read speed; write speed lower.
[16GB] Up to 80MB/s read speed; write speed lower.
Storage
Up to 512GB capacity
Warranty
10-year limited*
*See www.sandisk.com/wug
SanDisk Ultra is intended to be used in point-and-shoot cameras rather than professional DSLR models.
Still, its support of most photo files lends it a high level of versatility, meaning that you could use it in slightly more professional, mid-range cameras if completely necessary.
The card can also be used in smartphones, tablets, and other devices since it can be bought as either a MicroSD or a regular SD card.
Pros of the SanDisk Ultra Card
The main advantage of the SanDisk Ultra SD card is its cost.
Relative to the Extreme card, the Ultra model is a cheaper option that offers enough capabilities to meet the needs of most photographers.
In terms of its speed class, the Ultra card definitely performs well in comparison to some other SD cards on the market.
The speed class of a memory card was made by the SD Association and indicates its minimum write speed and is denoted by the letter C followed by a number. In the case of the Ultra card (and the Extreme card), the speed class is C10, meaning that the card has a minimum write speed of 10 MB/s.
Since this is the highest possible speed class, SanDisk Ultra meets the speed-class requirements for all devices, making it compatible with most of today's devices. This is a huge advantage, particularly for photographers working with more niche equipment.
It's the cheapest option
Sufficient writing speed for photographers
Compatible with most devices
Available in MicroSD and SD formats
Cons of the SanDisk Ultra Card
Compared to other SD cards, such as SanDisk Extreme, the SanDisk Ultra model demonstrates slightly lower speeds when reading and writing data. This means that it can take longer to receive, process, and transfer images and videos.
For example, the Ultra model is three times slower at transferring data than the Extreme model- the former having a UHS Class of U1 compared to the latter's U3. A lower UHS Class means that the Ultra card doesn't perform as well when it needs to transfer lots of data in a short period of time. So, for photographers focussing on burst photography or those wanting to capture images of high-speed events such as sports, the SanDisk Ultra might cause some buffering or other limitations.
When it comes to recording videos, the SanDisk Ultra SD card only allows you to film HD 1080p videos at a rate of 10 MB/s. While this isn't too huge of a disadvantage, professional videographers may find it helpful to choose a different memory card, such as the SanDisk Extreme, which has a higher Video Speed Class.
Despite its minor disadvantages, the SanDisk Ultra card is a great and relatively cheap option. It's definitely worth considering, mainly if you use your camera for still photography rather than videography.
Lower data-transfer speeds
It can be limiting for those working with burst photography
Not suitable for 4K video recording
---
What is SanDisk Extreme
Type of Card
MicroSD & SD Cards
Speed Performance
[256GB-512GB] Up to 180MB/s read speed; write speed up to 130MB/s.
[128GB] Up to 180MB/s read speed; write speed up to 90MB/s.
[64GB] Up to 170MB/s read speed; write speed up to 80MB/s.
[32GB] Up to 100MB/s read speed; write speed up to 60MB/s.
Storage
Up to 512GB capacity for SD and 1TB for MicroSD
Warranty
Lifetime limited warranty*
*30-year warranty in Germany, Canada and regions not recognizing lifetime warranty. See www.sandisk.com/wug
The SanDisk Extreme card is intended for use in more professional cameras and is particularly loved by intermediate to professional-level videographers due to its excellent 4K video support.
Photographers can also benefit from the card's superior reading and writing speeds- it can support and process large files in very short periods of time, making it highly suitable for burst photography.
Like the SanDisk Ultra, the SanDisk Extreme is available in various sizes and both MicroSD and standard SD forms. The MicroSD cards can store anything from 32 GB to 1 TB of data, while the regular SD cards come in sizes ranging from 16 GB to 256 GB. See the table below for a complete list of the storage options on offer. Its existence in both micro and standard forms means that it is compatible with various devices, including most camera models, phones, tablets, and more.
Pros of the SanDisk Extreme Card
In general, the SanDisk Extreme model is seen as an upgrade from the Ultra card. Because it is aimed more towards intermediate and professional photographers, it offers a few features that enhance its performance. This is particularly valuable for those working in videography and burst photography.
So, what are the features that make the card so great?
Perhaps the most apparent benefit of the Extreme model is its high UHS Class. The UHS Speed Class of an SD card indicates how quickly it can transfer data continuously. SanDisk Extreme cards are rated at U3. In other words, they can transfer up to 30 MB of data each second. This fast rate results in less buffering and allows for better results when filming videos on a camera.
When you compare this UHS Class to the ratings of other SD cards available, it becomes clear that using the SanDisk Extreme model can help give you greater quality and flexibility when capturing videos. The card, in fact, lets you film footage in 4K, so it is perfect for taking the quality of your videos to the next level.
The SanDisk Ultra SD card has a speed class of C1. This means that it has the best minimum write speed possible, making it highly compatible across most modern devices.
Of course, another advantage of this card model is the variety of storage options available. The fact that it comes in MicroSD and SD format, each of which exist with various data capacities, is also a great benefit, as it means that the card is compatible with lots of devices and can store the amount of data you want it to, depending on how much storage you require.
It has a higher UHS Speed Class and Video Speed Class, making it quicker at transferring data
It gives higher quality and flexibility when capturing videos
It supports 4K video recording
Added Protection with RescuePRO Deluxe data recovery software (Registration required; Terms and conditions apply).
Longer Warranty
Cons of the SanDisk Extreme Card
While the SanDisk Extreme is an incredible SD card, it does have a few drawbacks. The main disadvantage of the model is that it tends to be relatively expensive. However, when you consider all the positive aspects of the card, it becomes clear that you do get good value for your money. In addition, it is still cheaper than other SD cards, such as the SanDisk Extreme Pro, which is an upgraded version of the Extreme model.
Regarding how it compares to the Extreme Pro card, the Extreme model does just fall short in terms of performance. But due to recent upgrades, the newer generations of the SD card have read speeds that almost match those of the Extreme Pro, along with very competitive write speeds.
Relatively expensive
It doesn't perform quite as well as the ExtremePro card.
---
SanDisk Ultra Vs SanDisk Extreme: The differences
So, after going through the basic features of each SD card, hopefully you now have more of an idea of what each type offers. Now, let's see how the two cards compare to one another.
| | | |
| --- | --- | --- |
| | SanDisk Ultra | SanDisk Extreme |
| Video recording | Only able to capture 1080p videos | Able to record in 4K with less buffering and a higher quality |
| Cost | Cheaper option | More expensive option |
| Data-transfer speeds | Up to 150MB/s read speed; write speed lower. | Up to 180MB/s read speed; write speed up to 130MB/s. |
| Warranty | 10-year limited* | Lifetime limited warranty* |
*See www.sandisk.com/wug
SD Standard
Speed Class Mark
As we mentioned earlier, the speed class of an SD card indicates its minimum write speed. Both the SanDisk Ultra and SanDisk Extreme have a speed class of C10, meaning they have a minimum write speed of 10 MB/s.
This means that both cards fall in the category with the highest possible minimum write speed, making them meet the requirements to be compatible with most modern devices.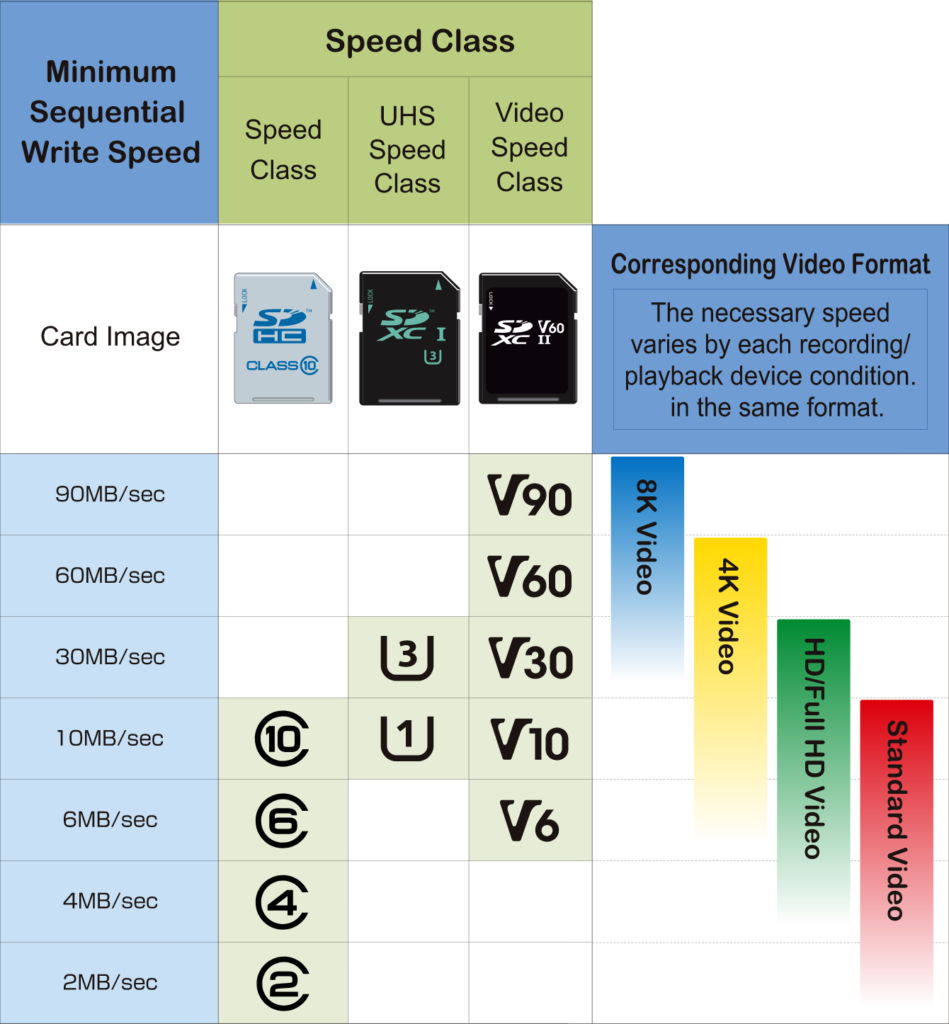 UHS Speed Class Mark
The Extreme Card has a UHS speed class of "U3" which is equivalent to 30MB/s write speed. In comparison, the Ultra has the "U1" classification which limits its writing speed to 10MB/s.
Video Speed Class Mark
One property of each SD card that is different for the two models is the video speed class, which essentially indicates the minimum write speed in the context of filming high-resolution videos.
The Video Speed Class is better for the Extreme Card. It's rated at "V30" (equivalent to a 30MB/s writing speed) while the Ultra hasn't any rating.
The five different Video Speed Classes are V6, V10, V30, V60, and V90. SanDisk Extreme cards have a rating of V30, which signifies that they can continuously record 30 MB of data each second. This is undoubtedly high enough of a rate to record videos in 4K on most mirrorless and DSLR camera models.
Conversely, the Ultra model doesn't have a Video Speed Class rating. Unfortunately, this indicates that it is not as supportive for high-resolution videography and can only record Full HD 1080p video. However, for non-professionals and those working on producing still media rather than time-based footage, the Ultra SD card still provides more than enough support.
Ultimately, if you plan on using the SD card for carrying out high-quality videography, you should definitely opt for the SanDisk Extreme card over the Ultra.
Storage Format
The SanDisk Ultra and Extreme are both SDXC cards. SDXC stands for 'Secure Digital Extended Capacity' and essentially labels any card that utilizes exFAT storage formats. Cards of this type help handle large quantities of data and files larger than 4GB in size. SDXC is the most modern type of SD card, launched in 2010.
Since both the Ultra and Extreme cards fall within this category, the two cards are great for storing files of any size and have storage options larger than 32GB.
Note that the only exceptions are the Ultra 32GB SD card and the Extreme SD card in the 16GB and 32GB capacities. These are SDHC cards, meaning that they use the FAT32 storage format instead.
So, the two SanDisk cards in question are really quite similar when we look at their most basic qualities.
Storage Capacity
SanDisk Ultra comes in capacities of 16GB, 32GB, 64GB, 128GB, 256GB, and 512GB.
SanDisk Extreme comes in capacities of 32GB, 64GB, 128GB, 256GB, and 512GB with an additional capacity option for its MicroSD card of 1TB.
Warranty
The Extreme card has a better warranty and offers a Lifetime limited warranty. As you can read in their Data Sheet, it corresponds to a 30-year warranty in Germany, Canada and for other regions they recommend checking www.sandisk.com/wug.
Compared to the Ultra which offers a 10-year warranty.
Should You Buy the SanDisk Ultra or Extreme SD Card?
When it comes to making that final choice, don't panic!
Remember that both SD cards are perfectly sufficient for most users. It's really only if you require extremely high read and write speeds, short transfer times, and minimal download times that you might find subtle issues with the Ultra model.
The right decision for you ultimately depends on what you plan on using the card for. Suppose you are using it for data-heavy work, high-speed burst photography, high-resolution filming, or something similar. In that case, we'd recommend paying a little extra to access the benefits of the SanDisk Extreme card. Otherwise, you will be fine sticking with SanDisk Ultra.
We hope that you found this article helpful and that you are beginning to have more of an idea of which SanDisk card might best meet your needs! If you would like to learn more about how the MicroSD versions of the cards compare, check out this video by Adrian's Digital Basement, which provides a comprehensive comparison of the two.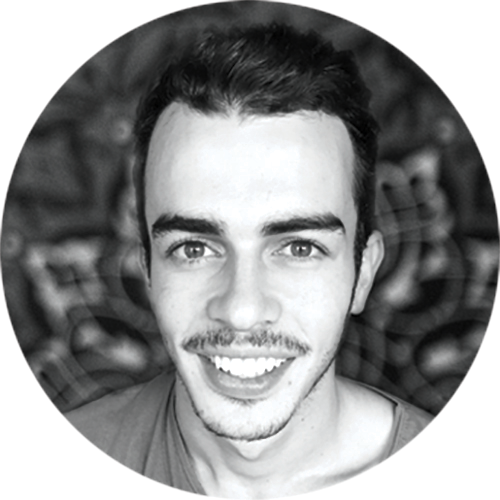 About the Author Betchphoto
Martin is an amateur photographer and digital marketer who has more than 15 years of experience with Adobe Photoshop. Register for his newsletter here and get a FREE Brush Pack!