How To Create a Silhouette Effect In Photoshop
So here we go. 
The process will involve 3 separate processes:
Separating the foreground using the Quick Selection tool
Silhouette conversion using Layer Styles
Final touches
 The most important thing when creating an effect in photoshop is to make sure you select the right images. The images must be able to go together in accordance with the idea in your mind, or else no amount of skill will make them work together. For this tutorial, I am going to create a silhouette of a photographer on top of a mountain.
Needless to say, therefore, I will require an image of a mountain and a photographer. I have chosen the following images:
If you want to have access to tons of free stock images, check our 25 best stock images websites here.
You can see from the outset that these two images complement each other. The foreground image of the photographer is already in a bit of a silhouette with a strong outline, and it will be easy to select him from the background.
Before we begin, you must already have your images loaded in Photoshop. If you don't know how to do that, you can find it here.
Step 1: Duplicate the background layer
In the foreground image (mine is named Photographer.jpg), Duplicate the background layer by right clicking on it and selecting Duplicate Layer.
Now, using the tool, click on a portion of the foreground. This will create a selection of the foreground while leaving out the background.
Do not worry if the whole foreground is not selected. Simply use the tool to click on an unselected area of the image. When you are done, the image should look like this.
You will notice that while the majority of the selection is perfect, the gaps in between the photographer's bag and body have also been selected. These need to be taken out of the selection. Fortunately, that is an easy process. 
Zoom into the gap area of the image. With the Quick Selection tool still selected, hold down the Alt key and click on the gap area. This will subtract the gap from the selection. Repeat this for all gaps.
Now it is time to refine the selection. This is important as it makes sure the edges of the silhouette are organic and do not look cut out.
To do this, we will use the Refine Edge tool. In Photoshop, hold down the Shift key and in the menu bar, go to Select > Select and Mask.
This will open up the Refine Edge menu.
Enable Smart Radius, and slightly increase the Radius, Smooth, Feather, and Contrast sliders until the red selection appears soft. Then click OK. 
Now, right click on the selection and click Select Inverse.
This will select the area around the foreground. Press Backspace [Win]  /Delete [Mac]. You now have a perfect cut out of the foreground.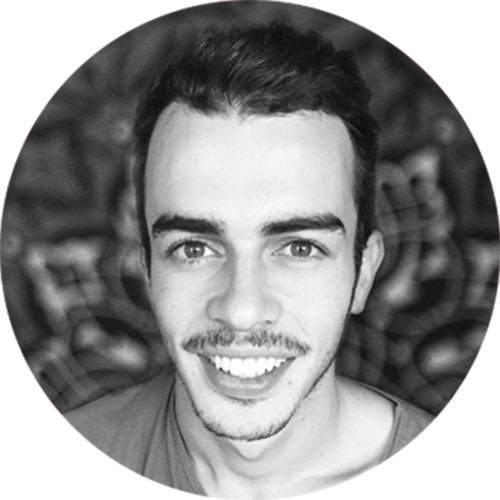 About the Author Betchphoto
Hey, I'm a Professional Retoucher making $10k a month thanks to Photoshop.Register to my newsletter to get freelancing tips and a FREE Brush Pack in Bonus! My Newsletter