25 Blending and Compositing Free Video Tutorials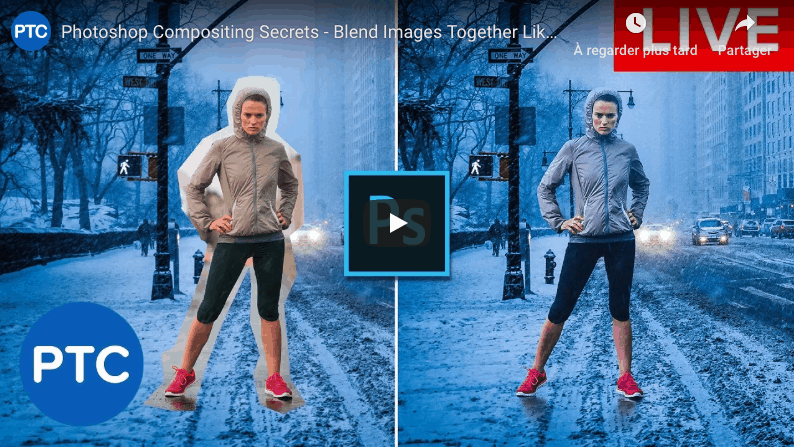 Hello everyone,
We have a new list of quality and free video tutorials for you to learn how to correctly blend images together and compose amazing images.
It is sometimes difficult to understand why something looks wrong in our final compositing and most of the time we can't get what we did wrong. I can reassure you, it attempts to everyone, even great digital artists that are used to blending images together. Most of the time it's because of the colors and how they should appear to your eyes in this particular scene you're trying to recreate. Their hue, light, and saturation need to be perfectly accurate for them to match the ambiance of your image. 
That is why it is really helpful to know and understand the theory behind the colors and to understand how light interacts with each of them. Furthermore, speaking about light, it's also crucial to pay attention to the shadow it's creating. You don't want to have shadows going in every direction when you only have one source of light.
That was a quick and easy introduction about blending and compositing, now let's dive into it. Here are 25 Blending and Compositing Tutorial for you to improve, enjoy !
*Do you have Photoshop already or not?
You will need Photoshop to follow these tutorials. You can get it here
1) How to Creatively Blend Two images in Photoshop
2) How to Blend Images and Create a Composite in Photoshop
3) How to Match Subject with Background in Photoshop
4) How to Composite and Blend Images in Photoshop with Lighting Effects, Masking, and Color
5) Photoshop Compositing Secrets – Blend Images Together Like a Pro – Live Presentation
6) The Cave Photoshop Manipulation Tutorial Compositing
7) Photoshop Compositing Tutorial – Waiting
8) Professional compositing in Photoshop CC with Adobe Stock pictures – live with Mike Campau
9) Photoshop Fantasy Landscape Compositing Photo Manipulation Tutorial
10) Color Matching in Photoshop: Fast and Easy Method – 90-Second Tip
11) How To Blend Multiple Images Into One Composite
12) A Secret Blend Mode for Compositing in Photoshop
13) Alliant Images secret comme un pro – Effet de la transformation du visage
14) How To Blend Multiple Images In Adobe Photoshop
15) Photoshop Tutorial | Photo Manipulation | Water Splash in Bulb
16) Poster Design Strawberry Flavor | Ju Joy Design Bangla
17) Making Of Surreal Moon Photo Manipulation Effect In Photoshop
18) Fantasy Glow Light Effect Photoshop Manipulation Tutorial
19) Photoshop Tutorial | Manipulation Workflow and shading
20) Create a Dramatic Light Effect
21) From Flat to Fantastic Using Reflections in Photoshop!
22) Basic Image Compositing
24) Realistic Photoshop Compositing Tutorial
25) FLYING Through Portal PHOTO MANIPULATION
BONUS Working with Transparent Objects
I hope you liked it and don't hesitate to share your thoughts in the comment section.