Rishab Jindal – Digital Artist
Hello everyone,
I'm pleased today to introduce you to Rishab Jindal, a talented digital artist. In this interview you'll learn more about his artist life and what are his daily habits. You will also discover which resources websites he uses and what inspire him.
If you're new to Photoshop and you're looking to learn the basic of this amaying software from Adobe, I recommend you to check our article about Tutorials to Help You Learn Photoshop Step By Step.
I hope you'll be inspired by this interview and don't hesitate to check our Interviews section if you want to have more.
Small intro about Rishab Jindal (@iamrishabjindal) :
You might have already seen the work of Rishab on Instagram. I've discovered him I think right after I started LP on Instagram, it was around June 2016. His artwork is precise and he usually likes to create big scenes that incorporate many different elements. We talk on Instagram from time to time and the thing I've noticed about him is that he's always motivated and he never asks for too much. He lets his artwork speaks for himself. It's a great pleasure to have him on LP.NET for an interview. I let you discover more into details this great artist.
First of all I would like to thank you for doing this interview, it's great to have you here on LP.NET. I would like to start asking you to present yourself and to tell us about when your interest for Photoshop and digital art started?
First of all, it's an honour for me to be here. Hi, I'm Rishab Jindal, I'm 22 years old AND I'm from Chandigarh, India. I study computer science as my career stream and I started graphic design around a year ago. I basically do digital art as a part time work because I love to do it. My interest in art and drawing has always been part of my life since my childhood.  I used to paint and draw using pastel color and water colors. My photoshop and digital art journey started when I created
my Instagram account
and I discovered a piece of art directly on my explore page. I don't remember exactly who was the artist, but that made me explore that account more and I started loving it. For me, it was the perfect way to show your imagination to everyone. This is why, I started learning photoshop from youtube, watching different speed arts again and again and sometimes in slow motion to understand how it was done. I practiced a lot, I gave atleast 6-7 hours daily for digital art when I started and slowly loving it and getting better… sometimes I even spend the whole day in front of my computer creating.
Which artists do you use as reference?
There are lot … I can not mention one specific though. It's the work, they style and the talent that inspire me. Considering the creative art field, I would say that my main source of inspiration is Instagram. The people I interact with or my "instagram family" as I like to call them, is my reference! Each one member of this instagram family creates amazing masterpieces and they never fail to surprise me with their amazing work.
What kind of scene do you enjoy the most to create? Fantasy? Post-Apocalyptic? Symbolic?
I started by creating Fantasy based artworks. I used to love them a lot, you can turn your fairy tale  imagination into real art piece work and people were loving it. Then I started to explore the surreal world. It is something you create that comes directly from your dreams or from your imagination. It's the main inspiration source. It's the way you're thinking, how you consider the world that surrounds you. It's you capacity of coming up with something out of a usual object or thing that you see everyday. You have to think out of the box, what can make it special, what can you combine it up with something? Most recently, I started Post Apocalyptic, Matte painting and AAA production artwork and I'm loving it. My best source of inspiration was Video Games. I play a ton of games and while playing AAA titles, one thing that always used to come in my mind was to create some artwork related to those games. In the future, I would love to be able to work in the video game industry, it's a dream.
What would you consider the best moment your creative life has brought you?
Well this is a tough question. There are many good moments that my creative life brought me. Like when I got the first feature for my artwork, when I got featured by Photoshop, when I got the first client contract. A really important memories I have is and that I will never forget is when I was featured in the news by Adobe, I won Adobe Max Contest 2017 and was selected as Adobe Student Influencer. I was the lucky one winner out of two winner (unfortunately I wasn't able to claim the prize but the happiness of winning was the same). This is truly my best moment. I never ever thought that my skills in editing would even lead one mday to this kind of moments. Oh, and I almost forgot, I'm also really happy to being interview by
@learn__photoshop
, thank you so much for this opportunity.
How do you describe your daily routine?
Everyday is different. There is no specific routine but I will try to describe you a usual day. I am a bit of a lazy person in waking up you can say haha. I usually wake up around 10a.m. on holidays. I recently completed my graduation so I'm currently recovering from my hard and long studying sessions, it was really tight. I used to wake up early, spend most of my time in college, then came back, try to complete assignments and projects. It was my final semester so I had to get my certification and everything ready, failure was not an option. I was so busy some days that I was forgetting to eat. A part from that, I love spending time with friends, going out with them allows my to refresh myself. I love video games, I play a lot, literally a lot. I know I will start to work full time after my graduation so it will be hard for me to manage everything. I guess somehow I will handle it. I made a choice in my life recently, everyday I want to learn something new, no matter if it is related to my career or not, if it is a big thing or small, I'm learning it. It simply allows me to improve my skills and knowledge. I don't like doing nothing. Well yes, if there is something that I will like to change in my life routine is definitely try not to sleep for long and try to wake up earlier.
If you had only one advice to give to a beginner what would it be?
For a beginner… umm! I have seen most of the beginner rushing towards feature and sometime losing hope when the things don't go their way. Well, I was the same too when I started… I used to spend hours and hours on artwork and it never worked out as my expectations. Sometimes it was so bad that I felt like quitting everything, but I didn't. No one should, fight for it, work harder and I promise you will achieve more than you ever imagined… don't create artwork just to get features, create for the people, create it because you like it. If people around you start to like your work they will support you and it will make you feel much more happier… I would resume everything by that: never loose hope and your faith in what you like. Even if you don't get what you want or if your work doesn't reach the exposure you expected. Always be happy and proud of what you create but at the same time, never settle for it…because thinking that it is the best will stop you from improving. Create something, be proud of it and next time create something even better than the last one. I promise this will definitely help. You can reach to me if you guys ever need help or something, I will be happy to help. Here's my instagram: 
@iamrishabjindal
Share with LP.NET 3 websites that you like to visit.
Three websites are –
Youtube (As I regularly check speed art videos to inspire myself for my upcoming artworks)
Deviantart (I use this site most of the time, it is like a hub for everything, you can find stocks, you can find inspirations, everything, perfect place for an artist)
Thanks again for your time, please leave a final message for the ones who are starting out. How can you motivate them?
I remember the time when I started my digital art journey on Instagram. I basically didn't know anything like how to share, how to get featured, proper #tags to use, what to do to get better reach. Then I got a DM from a fellow artist which changed my life. She is now one of my good, actually best friend and teacher to me, she taught me, guided me through everything and I can ask her anything I want. She supported me to get better, to learn more and here I am now. The jump from 500 to 10K+ followers may not have been possible if she wouldn't have helped me and guided me through the whole journey.
https://www.insatgram.com/_laddy_86
The support, the love I got from all the art community, all my insta artist family, the people who were always supporting me even during the hardest times also. They helped me grow bigger and I want to thank all of them for this including
Learn-Photoshop.net
. It is all about connecting and growing. I know when I contacted you for the first time and I really loved what you said: "You have to earn the feature". That motivated me so much to create more and better artworks than I already created. We, artists, are like family. It is normal for us to help each others and I consider myself really lucky that I got her support. Don't hesitate to reach out to other artists, no matter if he/she is bigger artist from you or smaller, you will learn something new from everyone. And always remember… "Create, Be Proud of what you create, Never settle for it and Create Better than before"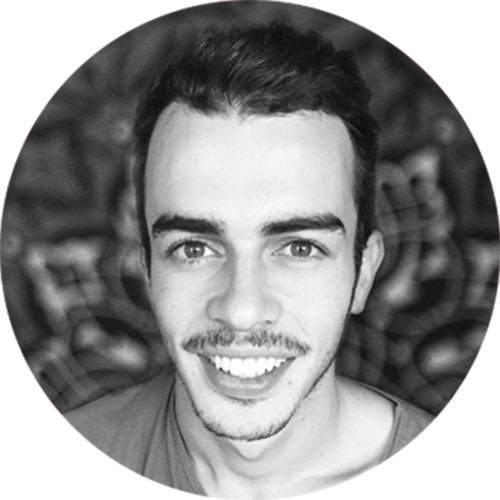 About the Author Betchphoto
Hey, I'm a Professional Retoucher making $10k a month thanks to Photoshop.Register to my newsletter to get freelancing tips and a FREE Brush Pack in Bonus! My Newsletter