Photified – A full time content creator
Small intro about Justin Main (@photified) :
You might have already heard about @photified, if you're following some famous photography pages on Instagram. He's creating imaginary scenes and he became a real inspiration for other artists. You will discover in this interview more about Justin Main A.K.A Photified.
December 2019 update: Justin Main recently created his own marketing agency that you can check here. His team worked for famous names like Google, Starbucks, PUBG Mobile.
Furthermore, if you're interested in seeing more interviews like this one, you can check our Interviews Section to see other digital artists story.
Lastly, if you're looking to improve your Photoshop skills and knowledge, you can have a look to this article. We gathered many different video tutorials and resources that will allow you to improve with Photoshop.
First of all I would like to thank you for doing this interview. To be honest, it's kind of an honor to have you hear answering my questions. It would be great if we could start with a small introduction about yourself. Could you explain to our readers how and when you got into the Photoshop game?
Thanks for having me!
My name is Justin Main and I am 32 years old from Toronto Canada. I am a full time content creator. I manage and produce social media content for various brands, including Google, Cadillac, Crayola, Volvo and Starbucks.
I also do influencer content and personal artwork on my @photified instagram. I first fell in love with Photoshop and designing when I was 14, creating clan tags and wallpapers for my xbox live clan.
I was really big into Halo and it lead me to find my passion for creating artwork in Photoshop. At 19 I went to college for Digital Photography and Imaging and years later I still photograph and use stock photos to create images every single day. It is my favorite thing to do.
How did you start using Photoshop? What do you like about it? What are your main inspiration sources?
Messageboards and websites like DeviantArt were where I started posting my artwork way back in 2000.
I was always artistic, but I found that I could really go outside the box and create my vision the best with Photoshop.
I really love when the viewer of my images has an emotional reaction. Whether joy, sorrow, fear, passion, in awe or confusion, any strong emotion is what I believe makes a great piece of art.
The power to create emotional reactions is what keeps me coming back for more. Art is powerful. My favorite artist is Dali. I love his surrealism and the way his brain could envison such masterpieces.
How would you define your style? What kind of art do you enjoy the most?
I would say my style is surrealist and I like going outside of the box.
My favorite type of images are conceptual and tell stories. I have a lot of influences, from the amazing artists I follow on Instagram, to science fiction movies, older surrealist painters and various music artists.
A lot of my work is done spur of the moment, whether I see a scene in person or I see a stock image online and the idea pops into my head.
What do you like about Instagram? Could you describe on great moment Instagram has brought you?
One thing that I love about Instagram is that it is a platform that you can freely share your art with others in a fantastic community.
I have never been on a social site like it. I have met a lot of awesome people through that app.
A great moment of joy I had on instagram was when I got verified. That really made me feel official. Instagram has brought me a lot of opportunities like working with @zedd and working with @google on their pixel phone campaign. It also is a platform where I can make a living off content creation. Social media as a whole changed my life.
Could you describe one usual day in your life? What are you used to do?
Generally I will get up around 9am and turn on my computer.
I always run a mult-screen setup and have netflix or some form of entertainment going along with Photoshop. I check my emails from clients and get started on any work that I have in cue.
I like to work organically, so throughout the day I will swap from work, to play, to work again. I like getting outside to play basketball or if I am in a gaming mood I will play PubG. I like to cook with my girlfriend @clearly.clarity and make fun video content and challenges.
I generally stay up late and my best hours are in the evening. I like doing a lot of my personal editing after 10pm. I really wound't change a thing, I love what I do!
If you could give an advice to you 3 years ago, what would it be?
If I could give myself advice 3 years ago it would be to keep doing what you love doing.
It was around 3 years ago that I started my account. It is important to ignore any negativity and take criticism well, but most importantly to have the drive to improve and learn.
Share with LP.NET some websites that you like to visit or that helps you in your creating process.
Some wesbites that I visit for my creative process are Unsplash.com , pixabay.com , pexels.com, Pinterest, deviant-art, and various blogs through searching google for image manipulations or creative photoshop art.
I also like looking up old surrealist painters' portfolios. There are so many talented artists out there that inspire me.
Thanks again for your time, it was a pleasure to have you on LP.net, please leave a final message that could inspire and motivate our readers. Impress us 🙂
Its been my honor, I really appreciate you having me by !
To those out there with the love and passion for creating art with photoshop, keep on doing what you love. If you stay commited to your art, the sky is the limit.
Three years ago I would have never imagined making a living and travelling the world because of content creation.
Businesses have realized the importance of daily content for their brands.Our industry is exploding. My dreams have come true, stay dedicated and yours will too!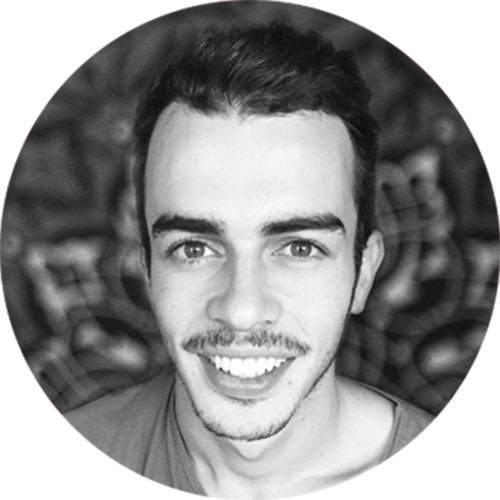 About the Author Betchphoto
Hey, I'm a Professional Retoucher making $10k a month thanks to Photoshop.Register to my newsletter to get freelancing tips and a FREE Brush Pack in Bonus! My Newsletter