We had the chance to interview Monica Carvalho, a digital artist based in Berlin mixing together images from simple objects to make them extroardinardy.

You can check her work here:

Instagram: https://www.instagram.com/mofart_photomontages/
Porfolio: https://www.monicamofart.com/
Twitter: https://twitter.com/mofartmonica
TikTok: https://twitter.com/mofartmonica
Facebook: https://www.facebook.com/mofartmonica
Inprnt: https://www.inprnt.com/gallery/mofart
Foundation: https://foundation.app/@mofartmonica

Full interview of digital artist Monica Carvalho
Tell us a bit more about you.
Hello!
I'm a 29-year-old Swiss photographer and digital artist based in Berlin. My passion is to create surreal photomontages using photos I take on my daily life and holidays around the world. I've always had a fascination for things that "look like other things".
Since 2012, I've been using Photoshop to merge my photos together and create images that "make you look twice". The aim is to make the ordinary – everyday things we take for granted (i.e. eye) – extraordinary! A very effective way to draw attention to something we took for granted is to change the original function of that thing (i.e. the eye becomes a keyhole).
What inspires you? What is your creation process?
One thing about my photomontages is that, unless it's a commission, I don't really "plan" them. The idea process starts either when I come across a particular object or when I'm looking through my portfolio of images taken over the years. Suddenly, my brain sees a connection between two elements (similar shape, colour or texture). So when I saw the photo of the key, something about the round metal keyhole reminded me of an eye. I am obsessed with eyes in because I think they're the most expressive part of our body. I also liked how such a composition would give a sort of poetic feel, like "unlock your imagination"… 🙂
What was the most challenging thing in the work you share with Learn Photoshop?
What took the longest to edit was the key photo (1st image). The original image, as you can see in the step by step video, had lots of visual "noise", little things to "clean up" (i.e. the key logo, the messy background on the left, the dirt on the white door…). I used the stamp and patch tools a lot. The actual merging of the iris and lock was done pretty easily using masks.
You said you're working full-time on your art now, how did you get your first paid job?
In 2018, I was contacted by an agency that was working for Samsung. They wanted to commission me to create a couple of photomontages showcasing a new Samsung product for a campaign. My contact at the agency said he came across my art on Instagram (at the time I had 17K followers).
I'm sure a lot of people are looking for tips from professionals like you to help them start their journey. Which advice would you give to someone that is just starting out as a freelancer/full-time artist?
That's a very good question!
I think I would say make sure you're really doing something that comes from your heart rather than simply recycling the art of actual artists. There are lots of people on Instagram calling themselves "artists" or "graphic designers" who just steal concepts from artists and it makes me sad. Everyone on this planet is unique, so their art should be so too. If you can't come up with your own ideas, it means you don't actually have anything to say, and art is there to say something, to make people feel something, and each person has a unique way of transmitting that.
For example, my USP is that I only use photos taken by me, and I always make sure I create unprecedented compositions. That makes my art very personal and exciting and my audience feels that. You should ask yourself, "am I putting something out there that's innovative, unique, different, exciting?" If not, then you might want to ask yourself why you want to be an artist in the first place. Your art has to come from your inner self… 😀
Do you use a tablet? If yes, which one?
No, just Photoshop and Lightroom on my laptop.
Mac or PC?
Mac
Is there any other places where people can see your art?
Yes, I'm on Twitter, Tiktok, Facebook. Additionally, I sell prints on INPRNT, share exclusive content on Patreon, and have two NFTs available on Foundation.
One final word?
Yes, thank you so much for selecting me for this feature, I really appreciate it and can't wait to see the post and share it! 🤗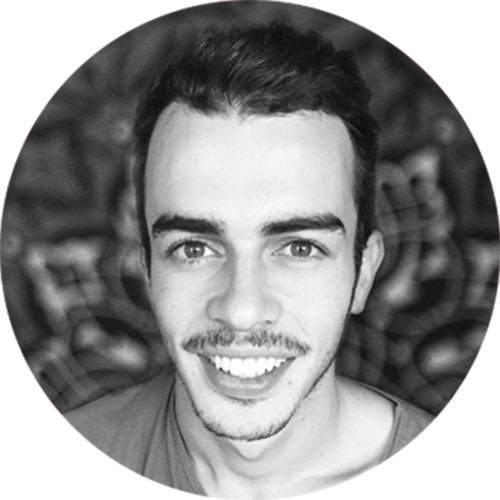 About the Author Betchphoto
Martin is an amateur photographer and digital marketer who has more than 15 years of experience with Adobe Photoshop. Register for his newsletter here and get a FREE Brush Pack!